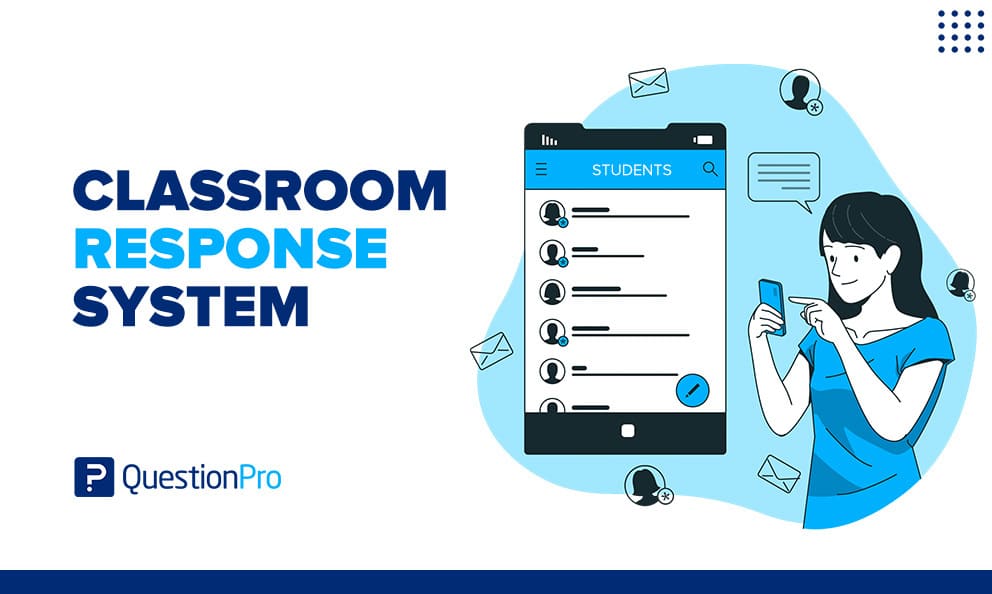 Teachers and presenters have increasingly used some form of a Classroom Response System to increase student engagement, motivating participants to interact and find teaching opportunities. When conducting a class or presentation, it's a challenge to find the right moments in a presentation to collect data.
When teachers present a class to their students, they must perform a wide variety of processes at once to keep all their students engaged while getting them to develop appropriate learning systems. Without proper organization and tools, this can cause a decline in class quality and reflect a poor classroom experience.
It happens to even the most qualified teachers; discovering that students are not paying attention or understanding the lesson is more common than you would think. This creates a challenge for any teacher or presenter when evaluating the success or failure of the class. However, the correct use of tools and techniques can prevent this problem. Let's talk about it.
What is a classroom response system?
A classroom response system is an interactive tool that allows teachers to interact with their students more practically. Typically, these systems are known as "clickers" as they come in the form of a remote control so that students can answer questions by clicking a button.
As we've learned, these classroom response systems allow the formulation of questions within a presentation, receiving answers from students in real-time, and collecting data thoroughly and in a handy way, increasing engaging students and improving learning dynamics that stimulate active student participation.
The evolution of the "Clicker."
Lately, the use of physical remote control tools has become somewhat obsolete due to the dramatic increase in the use of smartphones. It is estimated that up to 83.72% of the world's population will own a smartphone this year.
It's now clear that using a device we're already carrying tends to be much more functional today for most interactive activities. Hence, replacing the remote control for a feature on our smartphone is just the logical next step.
This information indicates a clear path towards the evolution of classroom response systems as well. Implementing advanced technology will become crucial for the classroom as its accessibility and uses are getting better and better.
Why should you use classroom response systems?
Let's explore the compelling advantages of utilizing classroom response systems in education:
Promoting student participation
The classroom response system, often referred to as the student response system, is a powerful tool that promotes active engagement among students. By motivating students, these systems transform the learning experience into an interactive and participatory process where students respond actively to the questions posed by instructors.
Real-time assessment and feedback
Through these systems, both the instructor and students benefit from instant feedback. Instructors can assess student responses in real-time, identifying correct answers and misconceptions. This immediate assessment allows instructors to adapt their teaching strategies on the spot, ensuring that students grasp the material accurately.
Empowering peer instruction
One of the standout features of classroom response systems is their capacity to facilitate instruction. Instructors can design activities where students respond individually and then engage in discussions with their peers. This collaborative learning approach not only increases interaction but also promotes a deeper understanding of specific concepts.
Simplifying complicated concepts
For challenging or abstract concepts, classroom response systems are particularly advantageous. Instructors can conduct virtual or in-classroom experiments that provide hands-on experiences related to the subject matter. This method not only engages students but also helps them grasp complex ideas more effectively.
Creating an inclusive learning environment
These systems contribute to an inclusive classroom environment by allowing both hesitant and active students to respond anonymously. By catering to different comfort levels, they encourage the entire class to participate. This inclusive approach enhances overall student engagement and ensures that every student's perspective is valued.
Classroom response systems offer a range of benefits that extend beyond traditional teaching methods. By promoting active engagement, enabling real-time feedback, encouraging peer instruction, simplifying complex concepts, and fostering inclusivity, these systems have the potential to significantly enhance the learning journey for both students and instructors.
How to use a classroom response system
In this section, we will delve into the effective utilization of a Classroom Response System to revolutionize the learning experience:
Begin by selecting a specific concept or topic that you intend to focus on using the Classroom Response System. This targeted approach ensures relevance and enhances students' understanding of the chosen subject matter.
Student device preparation
Prior to the class, communicate to students the plan to use the Classroom Response System. Advise them to have their phones or devices accessible and charged, as these tools will be essential for their active participation.
Introduction as a learning tool
At the designated class time, introduce the Classroom Response System as a dynamic learning platform designed to transform passive learning into an interactive experience. Emphasize its role in promoting engagement and gauging comprehension.
Strategic question integration
Seamlessly incorporate well-crafted questions into your teaching flow. Position these questions strategically to align with key moments in your lesson where student interaction can enhance understanding.
Engagement and discussion
Encourage students to engage with the Classroom Response System by responding to questions using students' phones. Display and discuss the collected responses, fostering an inclusive and collaborative environment that addresses misconceptions and deepens learning.
Top 3 classroom response systems
With the use of an appropriate Classroom Response System, we managed to reach two of the main goals of teachers:
Let's talk about the best three tools available for teachers and presenters.
Top 3: Socrative
A valid option to use in class is Socrative, a tool that tries to connect the teacher with his students. Its reporting system could allow teachers to have better control of their student's progress. It also allows students to work as a team to answer questions through surveys, which provides for formative evaluations.
The downside is it has a limit that only allows 50 users to use it simultaneously in their free version, and it requires one to download an app, which takes space in the user's smartphone.
Top 2: Kahoot!
Kahoot! is a learning platform designed for students and teachers with the aim of making the learning process more fun. It has features that have been useful in many classrooms across America.
Even though Kahoot! is possibly the most popular online tool in the classroom, many teachers are turning to Kahoot alternatives that meet their needs and those of their students in the best way.
Top 1: QuestionPro's Live Polls
Livepolls by QuestionPro is a classroom response system and much more. Online meetings, large and small, are pretty much the norm these days. With so many meetings throughout the week, how do you know your audience is fully engaged in your presentation?
How do you know if they're learning something? More importantly, how can organizations fight online meeting fatigue while still staying productive? Whether it's a room full of students or an online training webinar, we've got a solution that rises to the challenge!
LivePolls by QuestionPro is a totally free, user-friendly online polling tool that lets you conduct or make quick online tests or quizzes, timed trivia, gather instant feedback, and show the results to participants in time.
LEARN ABOUT: Live polls for Classroom Experience
Uses of a classroom response system
The participation of students through classroom response systems does not end with the possibility of answering questions. Instead, it allows teachers to conduct surveys, vote, attend, and create educational games that stimulate their academic training.
It is up to you to choose the proper tool to fit your unique event requirements. With QuestionPro's LivePolls, we provide it and surpass your expectations.
Why don't you just get started right away? Try QuestionPro LivePolls for free; we know you will love it!
Frequently Asked Questions (FAQ)
What is a Classroom Response System?
A Classroom Response System is an interactive technology that enables real-time engagement and feedback during educational sessions.
How do Classroom Response Systems work?
Classroom Response Systems allow instructors to pose questions, and students respond using devices like smartphones, fostering active participation.
What are the benefits of using a Classroom Response System?
Classroom Response Systems increase student engagement, provide instant feedback, and encourage peer learning.