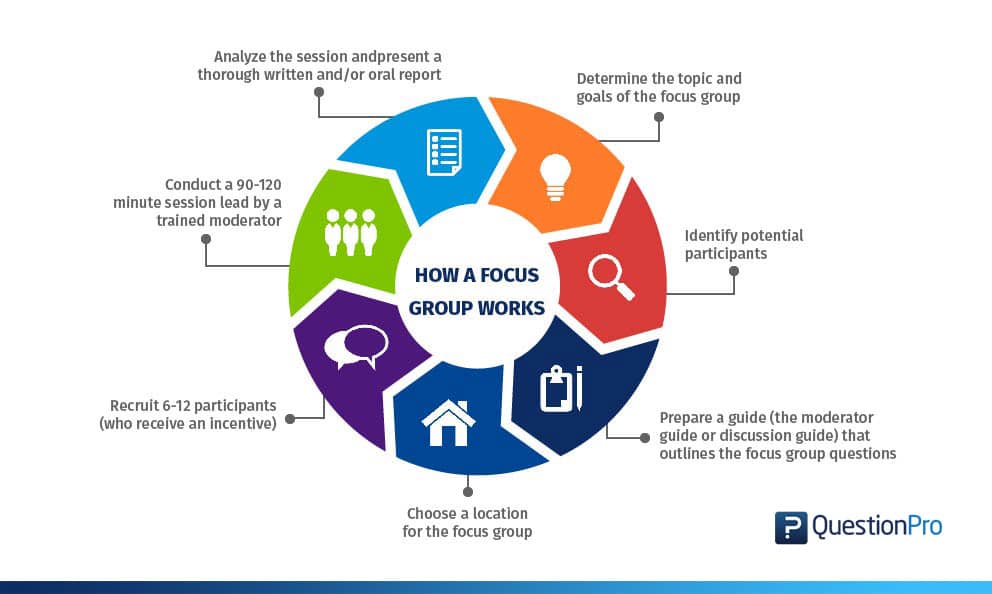 Focus Group: Definition 
Focus group is defined as a small group of carefully selected participants who contribute in open discussions for research about a new product or a feature update or any other topic to generalize the results from this concentrated discussion to the entire population. It is conducted in the presence of a moderator who will ensure the results are as unbiased and legitimate as possible.
In 1991, marketing and psychologist expert Ernest Dichter came up with the name "Focus Group" for meetings held with a limited group of participants who assembled with the objective of discussion.
Focus groups are a part of

qualitative market research

where a group of 6-10 people, usually 8, are asked to share their feedback, opinions, knowledge, and insights about technologies, products, services, marketing plans, sales strategies or any other topic.

All the participants are free to convince the other participants to change their opinions and openly put their respective points forward.

The mediator, in the meanwhile, would take notes and make records from this discussion.

Due to the impact that this focus group can have on the result, a researcher needs to be extremely picky in the process of selecting participants for this exercise.
Focus groups have a distinct advantage over all other market research methods. They are flexible, it capitalizes on the researcher's abilities to communicate with people to extract meaningful insights and opinions. A good moderator who prepares well and has had the experience of conducting such an exercise can be a representative for the decision maker.
These are conducted with participants who have a common interest in the topic of discussion. The purpose of a focus group is not about arriving at a common consensus or some level of agreement or to decide what to do about the topic being discussed. They are designed to identify and understand perceptions, feelings and know what consumers might think about a particular product or service. This technique uses qualitative data collection methods just as the dynamics in real life participants are able to interact freely and the desired outcome is mostly unbiased.
5 Steps to Conduct a Focus Group Research
Have a clear agenda for the focus group of people. Why conduct a focus group? Where or How to conduct it? Answers to these questions must be clear before approaching participants to be a part of a focus panel. Is the researcher intending to discuss new product features or the launch of a new product or service or the impact of current marketing plans etc? The statement of discussion should be put to paper for better clarity.

Once the agenda of the is decided, a researcher must start working on the questions. All these questions must align with the primary objective and should complement each other as well. The crucial ones must be put forth initially and the discussion should end with the least important questions.

Schedule this session. Time, place and duration must be finalized and communicated to all the participants beforehand.

If it is an offline exercise, a venue must be booked and the address must be made clear to the participants. Provision for drinks (at least water), restrooms, etc. should be in place for all the attendees. If it is an online focus group exercise, a calendar invites to the meeting room must be sent out to the participant along with constant reminders. Open-ended questions serve as a really helpful means of collecting valuable data.

Create online and offline leaflets or brochures with a welcome note, agenda and overall rules of the meeting.
Main pillars of a focus group- The Participants: A crucial step in conducting a focus group is the process of participant selection. The main criteria for selecting the participants must be their know-how about the subject. There is much research-based organization that can help in providing access to the right participants for such a group.
The role of a moderator: A researcher can out on the moderator's hat as long as he/she is confident of conducting the focus group with utmost impartiality, confidence, and elan. In case, the researcher lacks the qualities that make a good moderator, qualified and extremely suitable candidates can be hired to do the job. There are instances where a study group is highly opinionated, in which case, it is advisable to get a professional facilitator on board.
A few other points to keep in mind while designing a focus group:
Keep a recording as evidence of whatever is discussed in the meeting and let the participants know that they're being recorded and discussion points are being noted during the meeting.

Circulate a discussion manual that consists of the schedule, dos and don'ts of the focussed research, recording plan, mode of result sharing, etc.

Make sure the execution plan is in place prior to the meeting so that any foreseen conflict can be eliminated and the main focus group event can be as accurate as possible.

Put a plan of action together according to the opinions and feedback received from the focus groups for implementing changes to improve and monitor growth once the changes are executed.
Types of Focus Groups
Since its inception, there have been a lot of variation in the research groups –
Dual-Moderator Focus Group:

There are two moderators in this. One of them will be expected to ensure smooth execution and the other will be in charge of making sure each and every question is discussed.

Two-way Focus Group:

In this method, one panel or group will overlook the discussion happening in the other group. This makes way for more discussion points and may end up concluding in a different manner in the second case which gives a researcher more perspective.

Mini Focus Group: This is

restricted to 4-5 participants, unlike the regular exercise which has 6-10 participants.

Client-involvement Focus Group:

In this, the clients who urged the study will be a part of the opinion panel.

Participant-moderated Focus Group:

One or more participants provisionally take up the role of moderator. The chances of less biased, honest feedback increases when there are more than one people taking charge.

Online Focus Group:

 All discussions of this type of study are conducted by sharing opinions and feedback via online mediums. There are three categories of people who are a part of an online focus panel: observer, moderator, respondent.
How to Conduct a Focus Group Research Study?
Start by recruiting the right participants
A very important step in conducting a focus group is selecting the right participants. A researcher needs to be careful while recruiting participants. One key attribute in selecting members is that they should have sufficient knowledge about the topic and should be able to provide information and participate in the discussion.
Allocate a moderator
A moderator is a person who helps facilitate the discussion in a focus group. A moderator should be well informed about the topic of discussion and should possess the following attributes or qualities:
He/she should be able to ensure all members of the focus group are participating in the discussion. Ensures that all members of the focus group participate

If a particular participant is dominant then regulate him/her and help them blend in the discussions

If any participant is not attentive or participative, make sure to motivate him/her by using supportive words and positive body language.

In case the discussion becomes too heated a moderator should be able to take a call if the sessions need to go on or end it.  
Experts advise that a moderator shouldn't be a person know to the participants, this can lead to biased opinions and data collection and the purpose of conducting a focus group will be defeated.
Record the meeting for future purposes
While conducting a focus group it is important to record the sessions or meetings. A researcher can record the discussion through audio or video. However, the participants need to be informed in advance and take their consent before recording the proceedings of the meeting. It is advisable that there is a designated person to take note of the meeting/discussion.
Write clear discussion guidelines
Before the session starts, it is important to write down clear session guidelines, the key questions, what is expected of the participants, if the researcher plans to record the session and how the results of the discussion will be shared. These guidelines must be handed over to the participants and ask them to comply with it. A researcher can even hand out a feedback form at the end of the session. With this feedback, one can even obtain quantitative data.
Conduct the session and generate a report
A moderator is responsible to conduct the focus group discussion. Make sure all the participants are present and have been briefed about the discussion and topic. Once the discussion is concluded it is time to generate a report. A researcher at this point in time will have two types of data, qualitative data that will obtain from the discussion and quantitative data from the feedback responses.
Use the data to make a plan of action
Once a report is generated share it with the superiors in the organizations and start with executing the finding from the focus group. Work in groups and implement the changes in the products and services Once you are done with the process, share the results and status of implementation with the participants of the focus groups.
Focus Group Questions
Focus Group Survey Questions to Recruit Participants
1. Do you or any of your family member work for the following sector: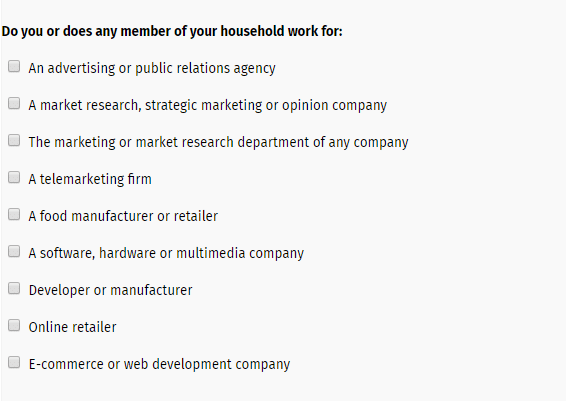 2. Please select what age category do you belong to.

3. Kindly select your employment type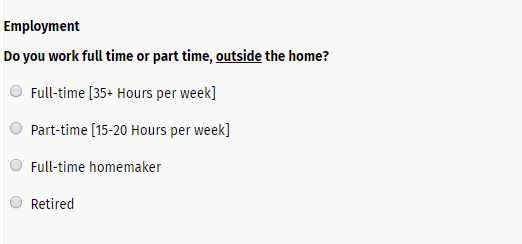 4. Please specify your level of education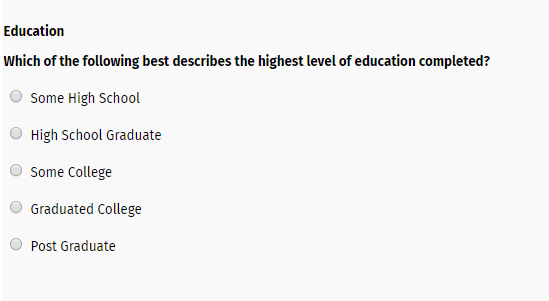 5. Please specify your family status.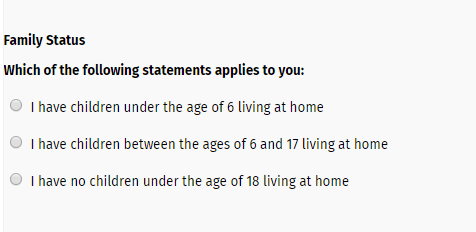 You can choose from a range of survey questions from our carefully designed focus group recruitment questionnaire survey template, to ask specific recruitment questions to get maximum responses. These responses will help you make the best choice in recruiting the appropriate group members to participate in your focus group study.
Learn more: FREE Focus Group Recruitment Questionnaire Survey Template 
Focus Group Survey Questions Asked During Discussions
Good focus group questions should have the following characteristics:
Should have a friendly and conversational tone.

Wordings used in the discussion should be similar to the focus group participants.

They should be straightforward and accurate.

Generally, focus group questions are

open-ended

.

Each question includes only one aspect and doesn't merge multiple topics.

Clarifying the purpose of the question can help in gaining improved information from the participants.
These questions must be simple, candid and must pertain to the topic of the focus group. The mediator should carefully curate questions which are not irritating to the participants. Questions must be asked to the group and not to specific individuals, due to which everyone present will feel included and that will result in a productive discussion. Exit questions are often used for this activity.
A mediator must start the discussion with easy questions and based on the topic and ideally, the initial questions should be kept positive. Discussion time per question should be restricted to 5-20 minutes in order to maintain proficiency. The last question will be such that an effective and inclusive conclusion can be drawn.
The are four categories of focus group questions:
1. Primary Question: This question is an introductory question which is open-ended that initiates the entire focus group discussion.
For example,
We are here to discuss ____. What are your thoughts about it?
2. Questions used to probe: These questions are an extension to the main question and participants can throw light on every point discussed in the primary question.
For example,
What do you know about ____?

How familiar are you with this organizational program?

What do you love about our organization?
3. Questions to follow-up: Once the questions used to explore are introduced, there is room to further probe into participant opinions and feedback. The mediator can establish better insights using these questions.
For example,
What do you think are the pros and cons of this product?

According to you, where can we improve to provide better customer service?

Which factors prompted you to make a purchase of our products/services?

What is the likelihood of recommending our products to your friends and colleagues?
4. Questions for the conclusion: Review the questions already covered in the discussion to make sure none of the important factors are missed. If the mediator feels there are certain questions which need to be asked, this is where they must be asked. This is how the mediator can form conclusions.
For example,
Is there anything other than the already discussed questions you would like to talk about?

Do you want to add to what is already spoken about?
To keep the discussion interactive, the mediator can add questions such as "Do others intend to add something to this?" or "Can someone else take it from here?" or "Why do you think this is true? Would others like to pitch in?".
Focus Group Examples
Focus groups are commonly used in three situations:
Initial stages of a research study

While creating a plan of action during a research

After the entire research study is completed to establish the results of the study.
An example of a focus group is –
The marketing team of an organization that deals with laptops aspires to fathom the customer feedback about the dimensions of an upcoming laptop variant. In such situations, direct information about the market can be received from focus groups in the most effective manner.
The team decides to appoint a group of 8 individuals who represent their target market to get together for a constructive discussion. They also get an experienced mediator onboard for this focus group who will supervise the entire conversation and establish concrete inferences. Questions about participant preferences, features opted for the laptop to have an edge over the others in the market, the projected price range, and other such crucial aspects.
Focus Group Advantages:
A great equivalent feedback gathering medium to the other predictable mediums such as

online surveys

and

online polls

. These mediums are highly technical as they usually deliver quantitative results and are generally implemented in case of time constraints or lack of knowledge of other

market research

methods.

Immediate access to customer feedback and opinions which makes the data collection and analysis process quick and convenient.

Highly flexible in the inception and execution as it is dependent on the researcher's caliber and understanding of products or services and also their ability to plan and deliver a focus group.

Focus groups are usually a conducted continually so that any hiccup such as impact of current market situations may impact the discussion that the researchers face in one of the focus groups can be eliminated in the other sessions.

Focus groups are perfect sources to understand the true feelings and perceptions of the participants who represent a population.
Online Focus Group Software- QuestionPro Communities
Online focus groups are a group of respondents usually (6-10) who are encouraged to discuss a topic mostly online. While traditional focus groups studies still are popular qualitative research method, many researchers prefer online focus group for the ease and convenience of time, cost-effectiveness and other similar factors.
This qualitative research platform helps businesses in developing their enterprise and also analyze their competition in addition to knowing the current market trends. To carry out well-structured research organizations or businesses need a software platform that can help them, understand the mindset of consumers, help interpret their thoughts and collect a good amount of qualitative data.
QuestionPro Communities is an online focus group software is a highly effective market research tool that helps researchers find online focus groups for their research purposes.
QuestionPro Communities Online Focus Group Software and Tools Includes:
Discussions
Discussions- This online focus group software and tool allows organizations or researchers to invite respondents into the online focus group community discussions and moderate the study online. This tool can be done live at any given point in time, which offers flexibility to the researcher and users to post responses at a time suitable to them.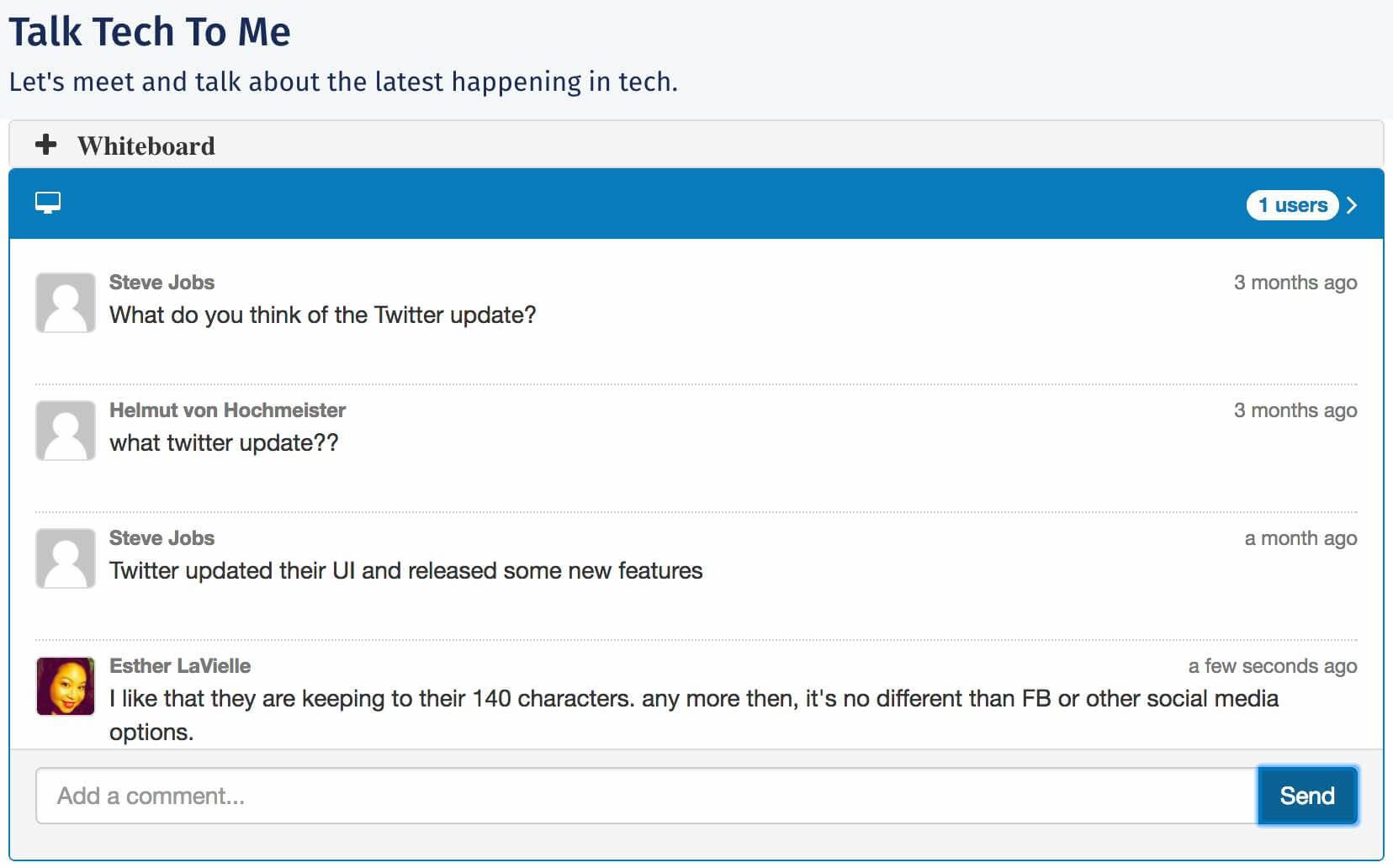 Idea Board
In case you are looking for respondents to be a part of your online focus group this software allows respondents to share their ideas and allows others to analyze and write feedback or even vote at the submissions.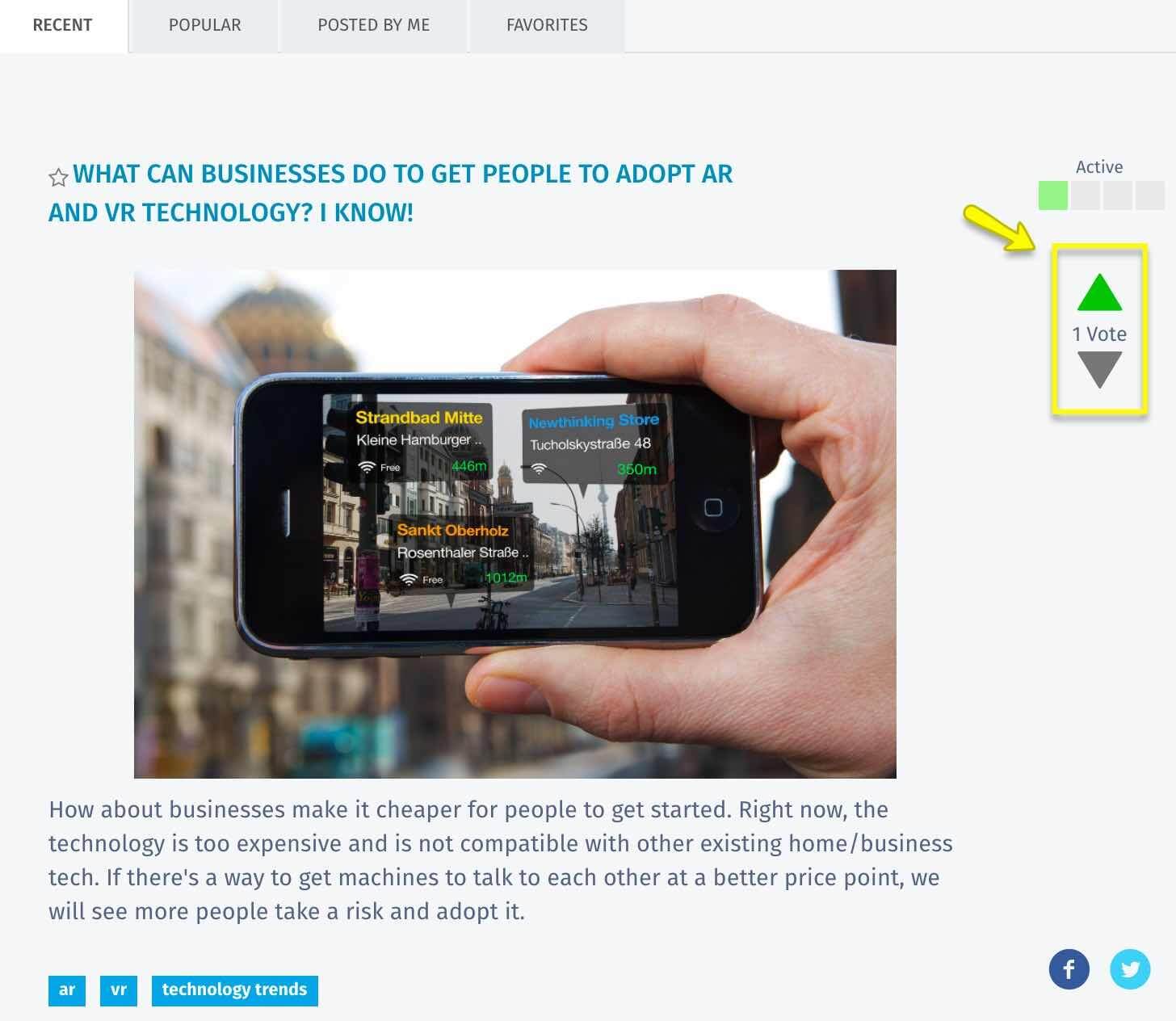 Topics
In this online focus group software, one can submit topics, cast their vote in the existing posts and leave comments or feedbacks instantly. QuestionPro Communities is the only online focus group software and tool that is available on mobile phones. Go mobile and take Discussions, Idea Board and Topics anywhere your respondents go.